Considering a renovation that involves knocking down a wall? Removing a wall is a great way to make a room larger and create a more open floor plan. But before you get too far into the process, be sure to first determine if the wall is load bearing. Knowing if a wall is load bearing will not only ensure a safe renovation, but also help keep project costs down. Here you'll learn how to identify a load-bearing wall, how to remove load-bearing walls, the cost to remove load-bearing walls, as well as who to consult for load-bearing wall removal.
What Is a Load-Bearing Wall?
As its name implies, a load-bearing wall is a wall that supports the weight of a house and helps to keep the structure standing. Think about it—the structure of a house has a lot of weight to support. The weight of the roof, all the contents in the house, and the building materials in between (e.g., wood, steel, cement, bricks, blocks, etc.) presses both down and out on the structure. This transferred weight is called the load. So a load-bearing wall functions to support the weight of a building and transfers that weight effectively from the roof down to the foundation.
Keep in mind that not all walls in a house are needed or designed to be load bearing. Some are simply there to partition and divide the space. That's why it's crucial to identify whether or not a wall is load bearing before starting any renovation projects that involve tearing down a wall or even cutting an opening into a wall.
What happens if you remove a load-bearing wall? It would compromise the structural integrity of the building and potentially cause a significant amount of damage. In other words, knocking down a load-bearing wall could literally "bring the house down."
How to Identify a Load-Bearing Wall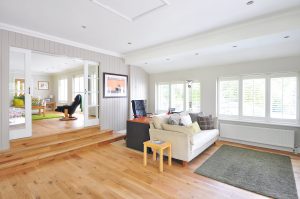 Here are some tricks and tips to help you to get a good idea of whether a wall is load bearing before you even begin to think about tearing it down:
Start by taking a look at the outside of your house. Because the pressure of a structure's weight presses both down and out, all the exterior walls of a building are load bearing. In addition, note the position of the ridge (or peak) of the roof. Load-bearing walls inside the building typically run parallel to the ridge.
Go into the basement or the lowest level of a building to identify interior load-bearing walls. Look for beams or columns—often made out of metal—running from one side of the room to the other. The load-bearing walls would be above those beams. In an unfinished basement, identifying a load-bearing wall is easier than in a finished room where the supporting beams are hidden behind drywall and ceilings. In addition, all walls that stand on the foundation are load-bearing walls.
See how walls are positioned in relation to the floor joists in a building. Located between walls, beams, and foundations, floor joists are structures that support floors and most easily identified in a building's basement or attic. Walls that run parallel to joists are not typically load bearing, whereas walls that run perpendicular to the joists are most likely load bearing.
Identify walls in the center of a building. Typically, a significant amount of a house's structure (particularly the roof) rests in the center. So walls located in the center of a home are most likely load bearing. And since the weight of a structure is transferred from floor to floor all the way to the foundation, load-bearing walls are usually built right above other load-bearing walls. So if there are walls in the same spot on each floor of your house, they are likely load bearing.
Take a look at the blueprints and/or consult with your home's builder or architect. If you aren't the original home owner, you may be able to obtain a copy of the blueprints at your local county records office. This is likely the most effective way to identify load-bearing walls in a house. But be sure to also take into account any remodeling that may have been done after the house was built.
How to Remove a Load-Bearing Wall—5 Important Things to Consider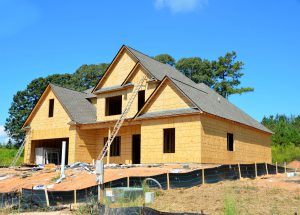 Simply removing a load-bearing wall would likely cause serious damage to your house. It may not happen the moment you remove the wall, but eventually gravity will win and serious and costly damage will occur. That's why if you remove a load-bearing wall, you'll need to replace it with another type of support system to help support the weight of the structure.
Here are some important things to consider before removing a load-bearing wall:
Be aware that you'll need a permit from your local municipality to remove any load-bearing walls and to ensure that your renovation follows building codes. You may also need to provide detailed plans of the new support system that will replace the load-bearing wall, a drawing by an architect or an engineer, and possibly an engineer's stamp of approval. In addition, the municipality will likely send out inspectors to check the work both during the renovation and after it's complete. Municipalities vary, so check with your local building department or permitting authority for information and advice.
You must construct a temporary support wall on both sides of a load-bearing wall before removing any parts of its framing. That's because the floor joists above are likely resting on and supported by the load-bearing wall.
The load-bearing wall will need to be replaced by a horizontal structural beam for support. Keep in mind that this beam will be the sole support, so a using a steel beam or laminated veneer lumber (LVL) would provide a lot more strength than a single, similarly sized piece of regular lumber. LVL is a product that combines multiple layers of thin pieces of wood with adhesives.You also have to consider that the replacement beam will end up lower than the ceiling because the floor above sits on the top of the beam. Much more work is required to make a support beam flush with the ceiling: You would need to cut back the floor joists, set the beam into the plane of the floor, and join the ends of the joists to the sides of the beam with metal joist hangers.
Adding one or more vertical posts between the two end-bearing points of the horizontal support beam is an effective way to give the beam more strength. If you install vertical posts, you also may not need as big of a support beam and then won't have to worry about it jutting below the ceiling level.
Determining the properly-sized support beam for your project is essential and goes beyond measuring the span of the wall. Factors such as roof loads, deflection, shear, and dead versus live weight all must be considered. This is an important reason why you should consult with a Professional Engineer if the wall you need to remove turns out to be load bearing. You'll find it will be well-worth the investment!
Who Can You Contact to Help Identify and Remove a Load-Bearing Wall?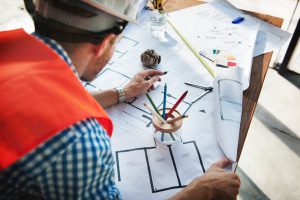 When it comes to knocking down walls, it's always a good idea to hire a professional expert such as a structural engineer to help you identify which walls are load bearing, as well as to provide advice on how to safely remove a load-bearing wall.
Tearing down a load-bearing wall requires careful removal and replacement with a structural support beam. Licensed Structural engineers have gone through specialized training to learn how to ensure that structures can withstand all loads and forces throughout their use. Their expertise in this area will provide you with the peace of mind that your house will stay strong and safely supported long after the wall has been removed.
What Does It Cost to Remove a Load-Bearing Wall?
The costs associated with removing a load-bearing wall can vary widely. Here are some of the most important factors that impact how much a load-bearing wall removal will cost:
The size of the wall.
The support replacement used (e.g., LVL versus steel).
What's inside the wall, such as plumbing, electrical wires, cables, telephone wires, and heating and cooling vents. As you can imagine, the costs could really add up if the project requires the rerouting of electrical wires, plumbing, and ductwork.
Whether your house is more than one story. For example, a second story adds significantly more stress on the walls.
The impact it will have on the floor and ceiling once it's removed. In addition to new flooring/carpeting and ceiling materials, you also need to consider the costs for the materials and installation of drywall, trim, paint, wallpaper, etc., that will be needed.
Depending on the complexity and scope of the load-bearing wall removal project, total costs could range anywhere from several hundred dollars to tens of thousands of dollars. Keeping the costs down from the start is another reason why it's a good idea to consult with a local structural engineer before undertaking remodeling projects that involve wall removal.
Need Expert Advice? P.E. For Hire Can Help You Find the Right Professional Engineer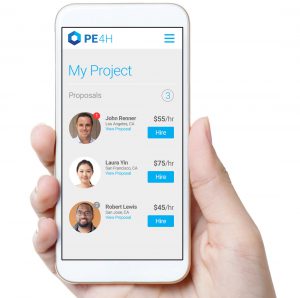 As a do-it-yourself homeowner undertaking a renovation project that involves knocking down walls, it makes sense to get some advice from experts. And on some renovations, contractors may also find that they are in need of engineering services. That's where the new, free online tool P.E. For Hire can help save time and money. P.E. For Hire is a mobile-friendly website that allows you to post your project and receive bids from highly-qualified, licensed professional engineers—all for free!
Need help from a structural engineer to determine if a wall is load bearing and if it could be removed? Or perhaps your municipality requires an engineer stamp for your next renovation project. P.E. For Hire can help fast track the process by giving you direct access to our nationwide pool of professional freelance engineers—from civil, structural, and electrical engineers to land surveyors and many more.
It's fast and easy—simply post your project and attach a drawing or photo. Then, you'll get quotes and proposals from an extensive nationwide pool of qualified, licensed engineers delivered right to your email inbox. An important advantage of working with P.E. For Hire is that there are no middle men—you'll have direct contact with the engineers via instant messaging.
So don't pass up your next building project just because it seems too complex and may require costly engineering fees. Instead, turn to P.E. For Hire.
Got questions about how to find the licensed professional engineer that's right for your next home building or remodeling project? Visit the P.E. For Hire website at www.peforhire.com and get started today!